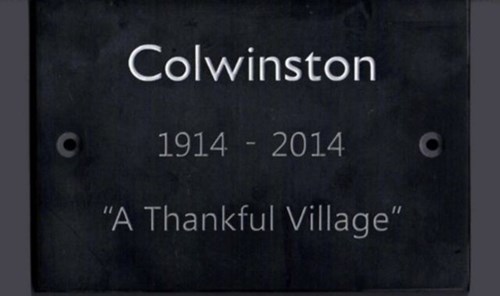 Remembrance 2023
Added at 23:22 on 01 November 2023
Remembrance Sunday November 12th 10.45am at the War Memorial.
The annual service, organised by the Community Council, will be led by Rev'd Angela Cooper. Poppy wreaths will be laid on behalf of the Vale Council, the Community Council, relatives of the fallen in WWll and a number of village organisations. The local squadron of RAF Cadets will be in attendance. If anyone would like to lay a wreath or plant a cross on the day please let the Community Council know.
Colwinston Thankful Village
All the sign posts welcoming everyone to Colwinston show us as a Thankful Village. The term Thankful Village, also known as Blessed Village, was popularised by the writer Arthur Mee in 1936 in the book Enchanted Land. He wrote that a Thankful Village was one which had lost no men in the 1914-18 war because all those who went to serve returned home. He identified 32 such villages. In October 2013 researchers identified 53 in England and Wales. There are none identified in Scotland or Ireland. 14 villages in England and Wales are classed as doubly thankful as all returned home safely from the 1939-45 war. In Wales the Thankful Villages are Colwinston, Llanfihangel y Creuddyn, Herbrandston and Tavernspite. In total 23 men from Colwinston went to the Great War and returned safely. Sadly 4 villagers lost their lives in the WWll. In 2013 St Michael's Church was contacted by Medwyn Parry saying that he and a number of his biker enthusiasts intended to visit all these villages in England and Wales to raise money for the Royal British Legion and asked if they could visit Colwinston. Around 60 bikers arrived at the Sycamore Tree for tea and sandwiches, accompanied by TV cameras and the visit featured on ITV Wales news. To make the day even more memorable it coincided with a wedding in the church and the Bride and Groom were delighted to see themselves on the news. All those villagers who were lucky enough to witness this occassion of all the bikes will never forget it. A Plaque was presented to St Michael's Church to be placed in the Church but after discussion it was decided with the Community Council that a War Memorial would be erected on the Village Green with the Plaque placed on that stone. Since 2014 all our Remembrance services have taken place there.
Councillor G Jones